Went to my 2nd KTV trip like within 1 week ... strangely to the same KTV again ... somemore the 2 KTV rooms that I went to for these 2 recent trips are just right opposite each other ... served by the same (rude? probably just moody) waiter ... hmmm ...
Hadn't wanted to go in the first place cause I was like having a sore throat after the first trip .. and abit of flu .. but guess what? Suhui is going!! Its like I haven seen her in 10 years!! So no matter what I must drag myself there heez....
Somemore Shunyi managed to join us at 9+ ... although Shunyi and I live very near to each other and we always see each other on bus but we dare not go to each other cause what if we got the wrong person?? heez...
the KTV started with 3 pple Jianwei, Ina and I although not boring but eh atmosphere wasnt there cause of the number of pple and 2 sick soldiers (Ina and I) but it ended happily cause after all these while we are still the chatty old friends heez... Its the first time I go to a KTV session where nobody wants to sing and all are trying to chat with each other haha!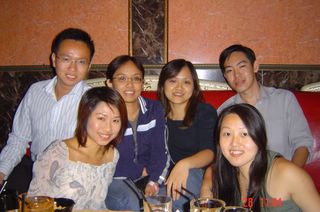 The group...

Jianwei with our bill!